THE GAUNTLET 5K RUN
July 23, 2015
Annual 101 Alternatives to the Chalkboard Conference
September 1, 2015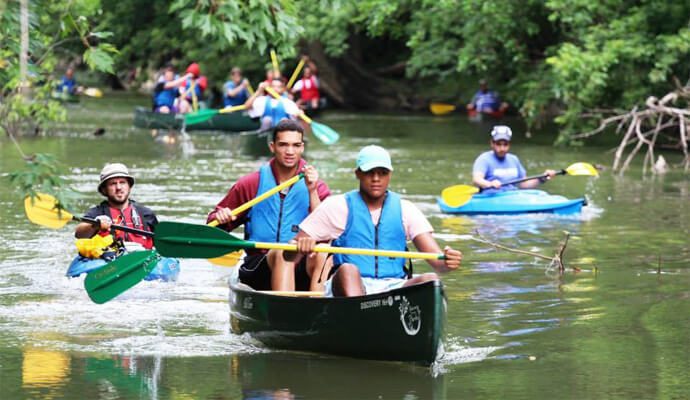 GREENVILLE '" The Light Foundation Vohokase Cultural Leadership Camp put their canoes in the Greenville Creek for a 5-6 mile trip down stream ending at Bears Mill.
Today is going to be exciting, said Greenville native Matt Light. The one good thing about having as much rain as we have had is that when it comes time to canoe the Greenville Creek we are going to be in good shape.
This is something that Terry (Clark), Rob (Clifton) and Dale (Musser) have all helped us out with in the past, added Light. The guys wanted to do it again. We had a great canoe trip last time.
The Vohokase Cultural Leadership Program is a year round program working with youth from all over the country. The program works with 16 kids all year via weekly phone call and visits to their homes. Every week the Program Director calls all the kids to check in about anything they are dealing with or working through.
This is a chance for these guys to work together, said Light. It's not easy to maintain a canoe in a creek when you are with somebody and one guy is rowing hard one way and another guy'¦ so it teaches team work, but it is also about having a great time.
A large part of the program is a 10 day summer camp where all 16 kids attend the 500+ acre facility in Greenville. The 10 days are filled with fun, but more important the program works with the kids on life skills and discuss ways they can improve their own lives.
Very neat activity for the kids to get a chance to work together as teams, be leaders and really explore that aspect of nature, said Light Foundation Programs Director. Being out there and working with each other.
Counselors provide real life experiences and guidance to help the campers grow and challenge their own actions and thoughts.