Success Stories from beyond Columbus
Fifth Quarter (in nature)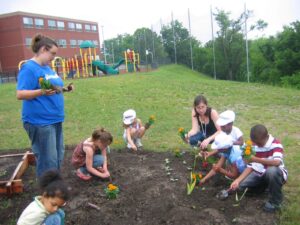 Leave No Child Inside — Greater Cincinnati partners with Cincinnati Public Schools to provide nature-based enrichment programs for Fifth Quarter.  Fifth Quarter is is an optional extension of the school year for at-risk schools intended to prevent the loss of learning that occurs during the summer months. Students attend morning academic sessions and the afternoons are spent in a variety of enrichment activities.  In addition to providing school outreach programs and field trips, LNCIgc encourages the use of school gardens and nearby nature locations as outdoor classrooms during Fifth Quarter sessions. Fifth Quarter concludes with a trip to Paddlefest Kids Outdoor Adventure Expo where they learn everything from how to paddle safely, catch a fish and plant a garden.
Prescriptions for Play
Prescriptions for Play are being used by doctors in Ohio and elsewhere to encourage parents to help their children address their health challenges via outdoor play.
Mission Critical
At the U.S. Forest Service, connecting children with nature is now considered "mission critical" and is supported organization-wide as main category of service.
Military Children
U.S. Air Force child care centers are incorporating nature play and natural playscapes nationwide.
Family Nature Clubs
Family Nature Clubs around the country are growing exponentially, leading family hikes weekly or monthly. The Children & Nature Network provides a toolkit and a staff member as a resource to those interested in forming such clubs.